Are Dentures Right For Me?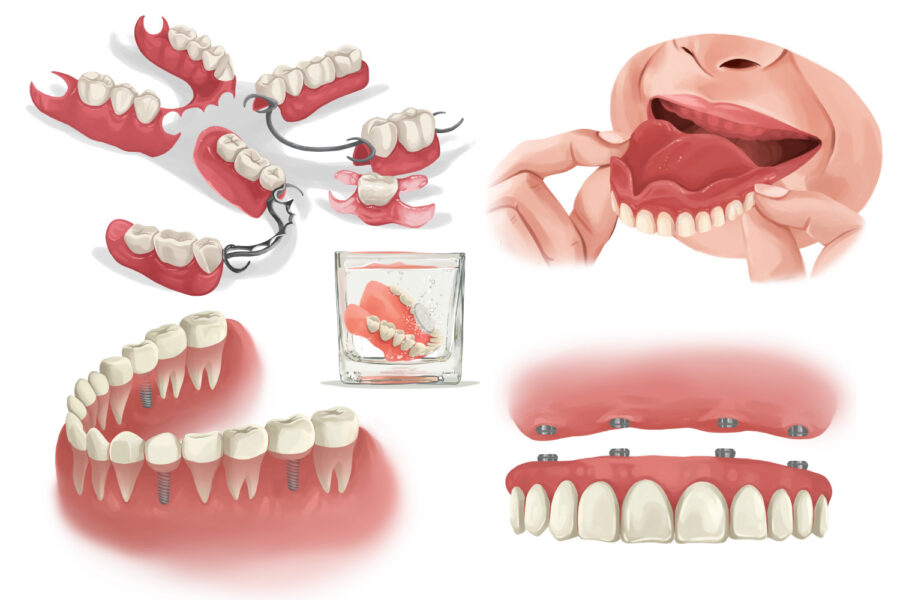 ---
Dentures and implants images from Authority Dental under CC 2.0
Replacing missing teeth is incredibly important for many reasons. For starters, teeth help keep the jawbone healthy. When one or more teeth are missing for an extended period of time, it can cause the jawbone tissue to deteriorate. The bottom half of a patient's face can change shape and begin to appear sunken in. Replacing missing teeth can make a huge difference for patients when it comes to eating, speaking, and smiling with confidence and ease.
Whether you have just a few or many missing teeth, our team at Serene Dentistry would be happy to help you find the best tooth-replacement option for your unique smile!
Traditional Full & Partial Dentures
Partial dentures are custom restorations that are designed to replace a few missing teeth at once. They use metal clasps or other attachments to secure themselves in place. Unlike bridges, they usually don't require modifications to nearby teeth.
Full dentures replace an entire arch of teeth–either all of the top teeth, bottom teeth, or both. Traditional dentures can be great for patients who need many of their teeth replaced but don't want oral surgery or are not eligible for implant-supported dentures. Traditional dentures rest securely on top of the gums and are held in place with denture adhesive.
Implant-Supported Dentures
Implant-supported dentures combine the stability of dental implants with the cost-effectiveness of dentures. They look similar to traditional full dentures but they attach to multiple dental implants that are placed on the arch. This allows patients to complete their smiles with a single oral appliance and just a few implants.
Implant-supported dentures are incredibly stable. The implants are surgically inserted into the jawbone and actually fuse with the bone itself. Implant-supported dentures can be excellent for patients who have struggled with traditional dentures in the past or those who like the idea of dental implants but need many teeth replaced at once.
Schedule Your Tooth Replacement Consultation!
To find the best restorative option for you, whether it be dentures or something else, please schedule a consultation with our team at Serene Dentistry! We can evaluate your preferences, needs, oral health, lifestyle, and budget to create your custom treatment plan. Contact us today! We look forward to hearing from you.
Contact Us
Categorised in: Restorative Dentistry