TMJ Therapy in McKinney, TX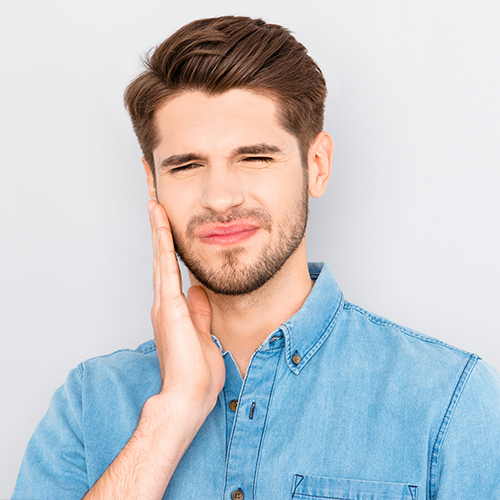 TMJ stands for the temporomandibular joint that connects your lower jawbone to your skull. When there is any dysfunction of the TMJ, it then results in a disorder of the joints. TMJ therapy is a safe and effective treatment option commonly suggested for patients struggling with TMJ dysfunction. If you are experiencing TMJ dysfunction or discomfort, Dr. Jay and our highly experienced team can provide TMJ therapy to help treat your case!
What causes TMJ?
The TMJ connects the jaw to the skull and allows for the full range of motion when biting, chewing, and speaking. When injured, damaged, or overworked, TMJ disorder can cause unpleasant feelings ranging from jaw pain to headaches. Though injury or damage are ways to cause TMJ disorder, some other common causes we frequently see in patients include teeth grinding or clenching, jaw misalignment, or arthritis.
How does TMJ therapy work?
TMJ disorder is common and can be caused in various ways. Since there are many reasons why a patient may experience TMJ dysfunction, TMJ therapy is tailored to each patient's situation. Dr. Jay often focuses on patient education to help you understand why TMJ dysfunction is occurring and what measures will help relieve the symptoms. In many cases, non-surgical treatments like a nightguard to prevent teeth grinding or performing TMJ exercises are enough actions to mitigate the disorder. Dr. Jay and our team will review every option to find one that fits your lifestyle and comfort.
Do I have TMJ if I grind my teeth?
Teeth grinding, like jaw popping or frequent headaches, is often associated with TMJ disorder. Though teeth grinding is a poor oral habit that can cause dental damage or an imbalanced jaw, teeth grinding may not be the direct cause of your TMJ. However, teeth grinding and TMJ are related in many ways, and getting each diagnosed as soon as you notice may save you time looking for TMJ therapy in McKinney.
Contact Us
Dr. J is a wonderful dentist! She is patient, understanding, and extremely kind. Her advice is invaluable in preventing future issues and I trust her implicitly. Dr. J is a proficient and skilled dentist. I highly recommend this practice. Everyone is friendly and helpful!
Gerald F., Actual Patient
CONTACT US TODAY TO SCHEDULE YOUR HYGIENE APPOINTMENT
Preventative care is an integral part of our practice, and we take pride in the care and education we provide our patients. Dr. Jay and her highly trained professional team offer oral hygiene care for the entire family.
CALL 972-369-0084
Other services we offer:
Areas we serve:
McKinney, TX
Frisco, TX
Allex, TX
Prosper, TX