Dental Implants in McKinney, TX
Get your smile and bite back!
ARE YOU MISSING TEETH? HIDING YOUR SMILE?
You're not alone. It's estimated that over 69% of Americans ages 35 to 44 have at least one missing tooth. The good news is that there are several options available to replace one or more missing teeth with today's dentistry. The only option never recommended is doing nothing at all.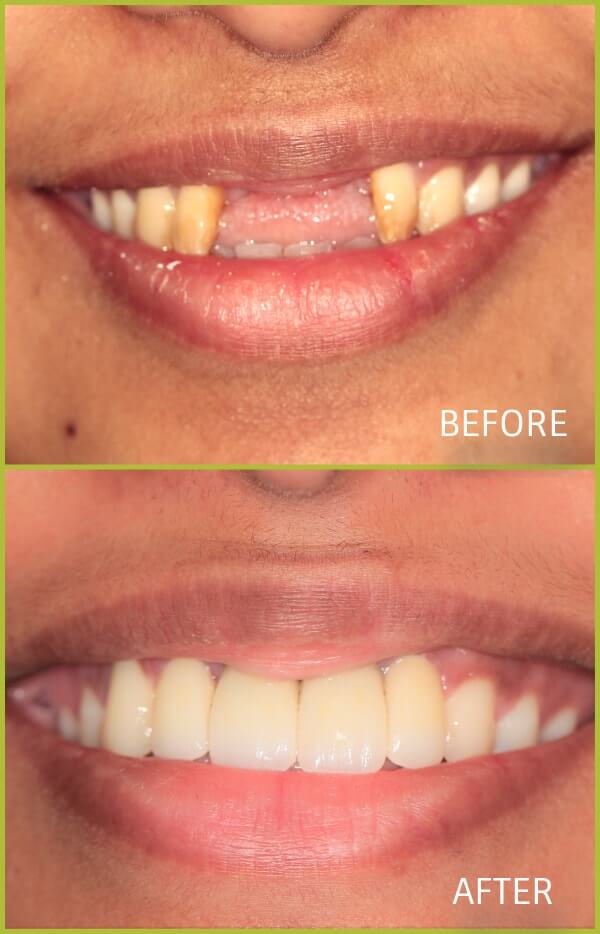 Why replace missing teeth?
Many patients express self-consciousness about their missing teeth and hide their teeth when they talk or smile. But besides appearance and added confidence, there are health benefits to replacing your missing teeth.
When your mouth has teeth missing, things can begin to go awry.
The jawbone that once held your tooth's root loses support, causing the bone to deteriorate.
Bone deterioration can impact your overall facial structure. Your facial features may look pinched, or sunken.
The remaining teeth often begin to drift, creating bite changes because the teeth don't come together the way they used to.
Bite changes, impact the way you chew which can lead to discomfort when eating, digestive problems, and diet changes, which affect the entire body.
Dental implants protect oral and overall health.
A dental implant simulates a tooth's natural root. The dental implant, placed in the jawbone, supports the bone and adjacent teeth, just like a healthy tooth does. The implant, essentially firmly fills the space, keeping surrounding teeth where they belong.
Because they are meant to act as a natural tooth, you chew and eat with them just like a regular tooth, and keep them healthy with routine brushing and flossing.
WHAT IS A DENTAL IMPLANT?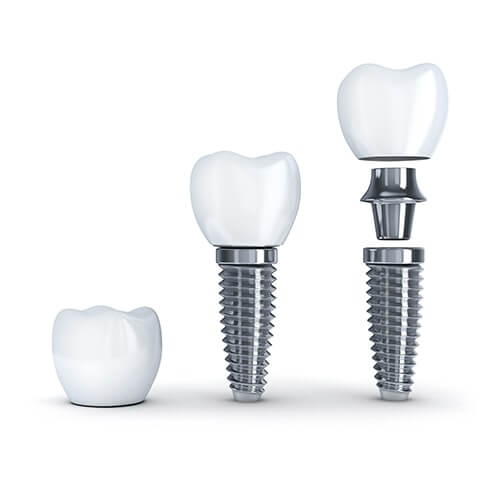 The dental implant itself is a post, fabricated mostly of titanium or zirconia, which are some of the most durable materials available compatible with the human body.
The dental implant is surgically bonded into the upper or lower jawbone to act just like your natural tooth root. Over time the jawbone naturally fuses with the post, anchoring it into place. This sturdy structure is the framework for replacement teeth.
Once the implant has securely bonded to your jaw, a restoration (crown, bridge, or denture) can be placed over the implant to look, function and feel like a natural tooth.
BENEFITS OF DENTAL IMPLANTS
Long-Lasting
Dental implants last a long time. Unlike other tooth replacement options, implants are long-lasting. In fact, when properly cared for, dental implants can last a lifetime.
Cost Effective
They are cost effective. Other tooth replacement options need to be replaced every five to ten years, and those replacement costs can add up! Because dental implants outlast other replacement options, they are more cost-effective.
Beautiful Results
Dental implants look like your real teeth. The replacement teeth are designed to match the color and size of your natural teeth. Designed for precision fit, implants, function just like real teeth.
Natural Results
You can feel better about yourself because your replacement teeth look and feel just like the real thing. There's no need to hide your smile! Contact our dentist near you with any questions!
Low Maintenance
Caring for implants is easy. You treat dental implants just like regular teeth. Brush and floss them as usual. Don't forget to schedule you biannual checkups with Dr. Jay to prolong the life of your dental implant.
Speak, Eat, and Smile Again
Speaking, eating, and smiling comes naturally with dental implants. They will not interfere with your speech or your bite. They are made to seamlessly blend with your natural teeth so you can chew normally, which means no alteration to your diet.
Secure Placement
Dental implants remain firmly in your mouth. Removable teeth can shift or fall out, which is both uncomfortable and embarrassing. Implants are bonded to your jawbone. They won't move, require adhesives, or need to be removed overnight.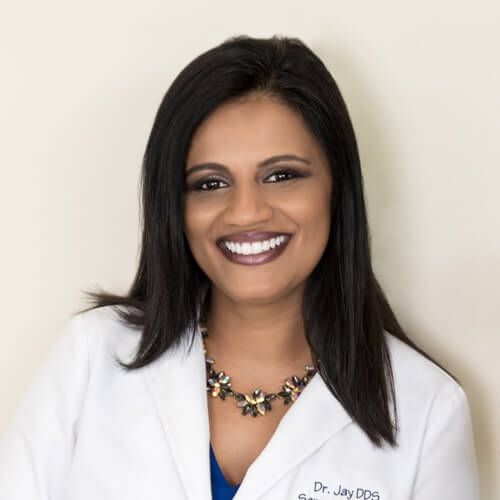 ARE DENTAL IMPLANTS RIGHT FOR YOU?
Dr. Jay is proud to be able to replace missing teeth in Frisco and McKinney, TX. Not everyone is a candidate for dental implants. Dr. Jay evaluates your gums, jawbone, and overall health to ensure you are a candidate for tooth replacement with dental implants.
With Dr. Jay's advanced clinical training in dental implant restorations and the best specialists in the area, we are giving patients their bite and smile back. We invite you to take advantage of our free consultation with Dr. Jay to find out if dental implants are right for you.
Are you afraid to see a dentist? Then give Dr. Jay a try. She will make all the difference in the world. She is amazingly gentle, considerate, kind, and caring. She can sense when I am apprehensive. She stops, pats my shoulder, and calmly talks me through the procedure. I've never known a dentist that took the time to do so.
Laurie H., Actual Patient
Other services we offer:
Areas we serve:
McKinney, TX
Frisco, TX
Allex, TX
Prosper, TX