Emergency Dentist in McKinney, TX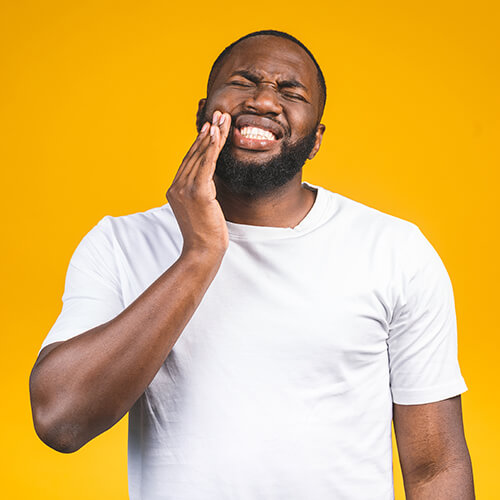 We sincerely hope that you will never have to visit our office for a dental emergency, but should you or a loved one need to see a qualified emergency dentist in Mckinney, our team at Serene Dentistry is here to assist. We provide prompt and effective emergency dental care that treats dental issues at their source and gets patients back to smiling big again in no time! To schedule an emergency visit with our office, please call 972-777-6166.
What are some common dental emergencies?
Dental emergencies include any situations that require a same-day dental appointment. Common dental emergencies include:
Severe Toothache
Cracked, Broken, or Knocked-Out Tooth
Uncontrollable Dental Bleeding
Dental Abscesses
Lost Dental Restorations
What should I do if I knock out a tooth?
Pick the tooth up by the crown, not the roots, and carefully rinse it off if you can. Place the tooth back in the socket and gently bite down on a piece of gauze or clean cloth to hold it in place. If this is not possible, put the tooth in a container full of milk or saliva to keep it alive while you make your way to our office. Please give us a call to schedule an emergency visit with our team before you head to our practice, and we will begin preparing a treatment room. Time is of the essence when it comes to knocked-out teeth, so you will want to do all of this as quickly as possible.
Should I visit the ER or schedule an emergency dental appointment?
It's not uncommon for patients with dental-related emergencies to head straight to the emergency room. Unfortunately, many emergency rooms lack the equipment and expertise necessary to treat emergencies that have to do with the teeth and gums. If you have a broken jaw or other injuries that are more urgent than your dental emergency, we recommend visiting the ER first. Still not sure what to do? Feel free to give our office a call, and we can assess the situation over the phone and advise.
Contact Us
Dr. J is a wonderful dentist! She is patient, understanding, and extremely kind. Her advice is invaluable in preventing future issues and I trust her implicitly. Dr. J is a proficient and skilled dentist. I highly recommend this practice. Everyone is friendly and helpful!
Gerald F., Actual Patient
Other services we offer:
Areas we serve:
McKinney, TX
Frisco, TX
Allex, TX
Prosper, TX