Children's Dentistry in McKinney, TX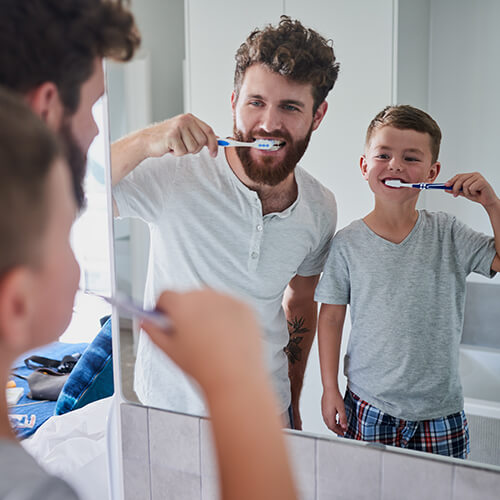 Serene Dentistry is proud to serve patients of all different ages and dental backgrounds, and we especially enjoy working with children and teaching them about maintaining positive oral health. When it comes to children's dentistry, we recommend scheduling preventive services like dental sealants and fluoride treatments so that your child's teeth can be healthy and strong from a young age. To learn more about our kid-friendly care or make an appointment, please contact us!
Contact us
---
When should kids begin visiting the dentist?
Children should ideally begin visiting the dentist when they turn one or when their first tooth grows in, whichever happens first. If your child has passed either of these milestones and hasn't seen a dentist yet—don't worry! Our team at Serene Dentistry would be happy to assess your child's smile whenever you are able to schedule an appointment with us.
How often should kids go to the dentist?
Some parents are surprised to learn that children should see their dentist just as often as adults, or twice per year. Biannual dental visits are crucial for diagnosing and treating dental issues early on when they are less advanced and tend to be easier to treat. Regular professional teeth cleanings will also help reduce a child's chances of developing tooth decay and gum disease.
What if my child is nervous about their appointment?
It's completely normal for both children and adults to have some anxiety about visiting the dentist. Our treatment rooms contain ceiling-mounted TVs and headphones that are used to distract our patients and keep their minds off of what is happening around them. We also provide nitrous oxide sedation, which can relieve anxious thoughts and help the patient relax.
Are routine dental visits for kids covered by insurance?
If your child has dental insurance, their routine services are likely completely covered by their benefits, so we highly recommend taking advantage of their dental plan and scheduling routine appointments for them. If your child's care is not covered or they are uninsured, our office provides a variety of financing options that patients and their families can utilize to keep their care budget-friendly.
Learn More
Dr. J is a wonderful dentist! She is patient, understanding, and extremely kind. Her advice is invaluable in preventing future issues and I trust her implicitly. Dr. J is a proficient and skilled dentist. I highly recommend this practice. Everyone is friendly and helpful!
Gerald F., Actual Patient
CONTACT US TODAY TO SCHEDULE YOUR HYGIENE APPOINTMENT
Preventative care is an integral part of our practice, and we take pride in the care and education we provide our patients. Dr. Jay and her highly trained professional team offer oral hygiene care for the entire family.
CALL 972-369-0084
Other services we offer:
Areas we serve:
McKinney, TX
Frisco, TX
Allex, TX
Prosper, TX