Meet Dr. Jay Jayachandran
Your kind dentist in McKinney, TX.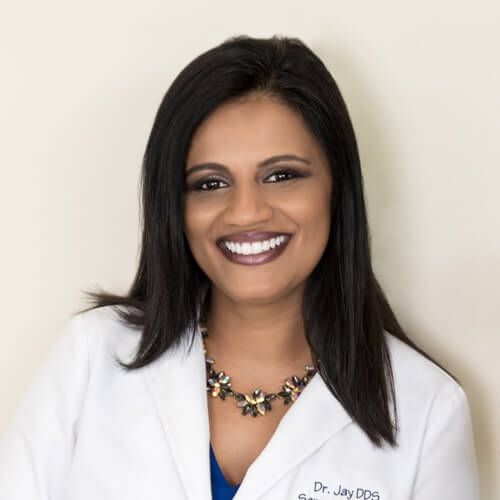 Providing the best care for her patients.
Dr. Jay Jayachandran, DDS – "Dr. Jay" – is dedicated to being the best dentistry near you. She provides quality care to our patients at Serene Dentistry. Under her leadership, our team of dental professionals focuses on maintaining the same high standard of complete care while advancing in continuing education in the artistry & function of cosmetic dentistry and tooth replacement.
Dr. Jay is the firm belief that learning should never stop and with that philosophy in mind, she continues to exceed the minimum number of continuing education credits required by the Texas State Dental Board. Dr. Jay believes in treating every patient with respect and compassion that she would extend to her own family.
DR. JAY'S DENTAL BACKGROUND SERVING MCKINNEY AND FRISCO, TX
Education
Graduated magna cum laude from the University of Texas Health Science Center, San Antonio
Committed to keeping herself updated with the latest in the dental field
Outside The Office
Dr. Jay and her husband have been married for over ten years and have an adorable daughter together.
They share a passion for living life to the fullest – be it gardening, traveling, community events, outdoor activities, cooking or reading.
An ardent fan of the Dallas Mavericks, she stood supporting her team even in her years at San Antonio.
Thank you, Dr. Jay for taking care of me and my family. You are so sweet and make our kids very comfortable. They know you care and will always take good care of them. Thank you for calling and checking on Garrett tonight that meant a lot to us!
Juliet G., Actual Patient
COME TO SERENE DENTISTRY AND MEET DR. JAY JAYACHANDRAN
She cannot wait to meet you!
WHAT SETS US APART?