Should I Get Dental Implants or Dentures?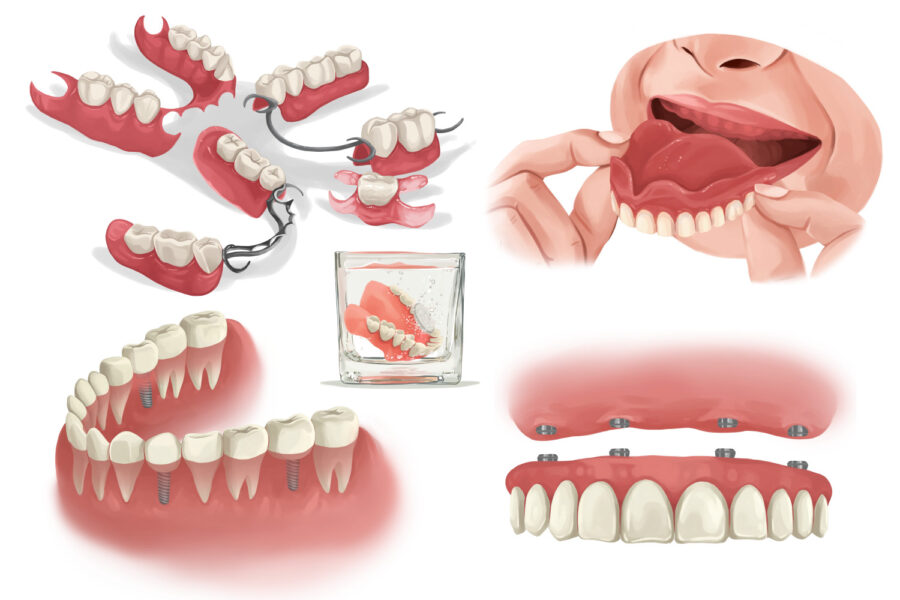 ---
Are you missing one or more of your permanent teeth? Missing teeth is more than a cosmetic issue; these gaps increase your risk for additional tooth loss, as well as bone density loss. Speaking and eating can be more difficult if you're missing teeth, which negatively affects your confidence, relationships, nutrition, and overall health. Luckily, there are great tooth replacement options like dental implants and dentures.
What Are Dental Implants?
Dental implants consist of a biocompatible post topped with a realistic-looking tooth replacement. The post is surgically placed in your jaw where you've lost a tooth. As you heal, the post fuses with the jawbone to give you a sturdy, permanent tooth root replacement. We then can place a restoration – like a crown, bridge, or denture – on top of the implant.
What Are Dentures?
There are two types of dentures: partial and complete. Partial dentures can be used if you're missing a few or several teeth, while complete dentures replace an entire upper and/or bottom arch. Partial dentures are stabilized with attachments on your remaining teeth and complete dentures use suction or an oral adhesive. You remove dentures while you sleep so your gums can get a break. We also offer implant-supported dentures.
Choosing Between Dental Implants & Dentures
There are a few factors that determine eligibility for implants or dentures. You should be in good oral health for both. With implants, you'll need enough jawbone density and patience to wait out the healing process.
Implants are the only truly permanent tooth replacement because they replace the root. They're the most natural-feeling replacement and don't need special maintenance. On the other hand, implants require surgery, while the process to get dentures is non-invasive. Dentures also tend to be more affordable.
If you want to restore your smile, dental implants and dentures can both be great options. Which works better will depend on factors like cost, whether you want to go through surgery, your jawbone density, and so on. We can help you decide which treatment is right for you at your consultation.
Our team would be delighted to guide you through the tooth replacement process! Please contact us today to set up a consultation.
Tooth replacement images from Authority Dental under CC 2.0
Categorised in: Restorative Dentistry